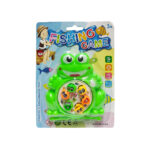 Mini Frog Fishing Toy Playset, Green – Party Favors & Gifts
4.00 AED
PRODUCT DETAILS:
This Fishing Toy teaches hand-eye coordination as players use their mini fishing poles to catch the most fish. Not only Childs hand-eye coordination to be exercised but also the color cognition. Provide toddlers with hours of entertainment. An interesting game can play with family and friends. This is also perfect to use as a kid's party favors and as a gift.
Frog Fishing Toy Playset Product Details:
Frog base, 4in x 4in
1pc mini fishing pole
6pcs magnetic fish
Description
REMINDER! Not for children under the age of 3. Adult supervision is advised.